Solenoid Valves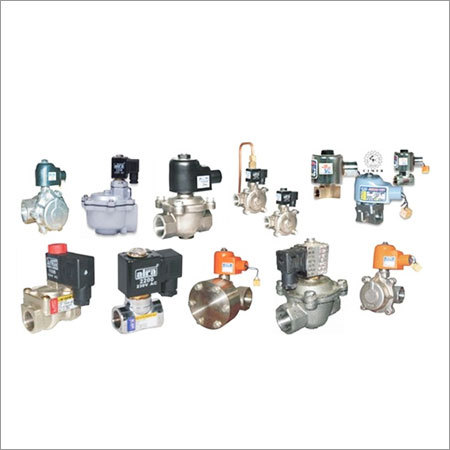 Solenoid Valves
Product Description
Our company is a well-established manufacturer and supplier of a wide range of Diaphragm Solenoid Valves. Manufactured from the high grade raw material and cutting edge technology, the Valves are offered as per the defined industry standards. These are high in demand and are used for controlling air, oil, gas and other liquid. The corrosion resistant Valves are easy to operate and are offered with smooth finishing. To cater the needs of the clients, Solenoid Valves are available in different sizes.
Features of Diaphragm Solenoid Valves:
Low maintenance
Leakage proof
Easy to install
Diaphragm Solenoid Valves
2/2 Way Pilot Operated Piston type Solenoid Valve For Steam Si Hih Temperature Fluids
Valve Bodv Seat & Seals Pressure Temperature Coil Voltage insulator

Coll FnoloRpr Mortes
Oul Rnliiuj Mecia
ASTMA351' CF8/CF8M/CF3M PTFE

& PS I :o 1&0 PSI UD to WC
12V;24V!48v,1' 0V/.23CV AC/DC H Class Suitab e Upto 133 C P,T./lPfif>/lPfi7 iFlaTipPrfiol/F)pici Proof as per IS 2'48 STC for class || A || ,|| B||,|| C Zone)
.Cun ii lions RhIhJ
:Hot water / Slesm i high "emrature Fljid
Model Size Range Body
Diaphragm
Press
Temp
Available Volt
ASDA 1/2" to 6"
Aluminum Pressure Die Cast Neoprene / Nitrile / PU 0.6 to 8.5 Bar
80 C Max(Upto 125 C on Req.) All std. voltage available
2/2 Way Semi Pilot High Performance Diaphragm type Solenoid Valves for High Volume and Low Pressure application
2/2 Way Pilot Operated Diaphragm type Solenoid Valve
Model Size Range Body
Diaphragm
Pressure
Temperature
Ends
Media
Available Volt Coil Encloser Modes
Col Rating
GSD/GTD 3/8" to 4 "
ASTM A351 Gr.CF8 / CF8M / CF3M Neoprene / Nitrite / PTFE / E.P.D.M.
0 to 5 Bar
50" C to 85" C / 80" C (High Temp.On Request.) :Screwed / Flanged / Triclover
Air.Hot water.Oil,Gas.Corrosive Fluids.Vaccum etc.
12v. 24v,48v, 110v,230v AC/DC :IP20 / IP65 / IP67 (Flame Proof /Explosion Proof as per IS 2148 STD for class || A ||,|| B ||,|| C Zone) :Continuous Rated
Model
Actuotor
lype
Sifre Range Body
Diaphragm
Pressure
Temperature
Ends
Trade Information
CHENNAI

Cash in Advance (CID)